I've grown rather fond of gardening over the past year. I love spending time outside with the fresh air, the dirt, the bugs and the plants. I love to watch a seed (or a tiny plant) turn into a large fruit-bearing plant. I also love the fact that I can actually reduce my food expenses by growing a garden.
This past summer I had a small-ish garden (about 8 plants total), but was still able to procure lots of tasty fruits and veggies  (sometimes more than I knew what to do with). I grew tomatoes, zucchini, green beans, blackberries, cilantro and even attempted to grow a few sunflowers. I also planted a grape vine, although it has yet to bear fruit (these things take time).
Here are a few pictures from my garden (you can click on them to show the original if you'd like).
Gardening really is brilliant isn't it?
As I've been learning to garden I've learned a few things about the costs involved with gardening and what not to do, if the sole purpose of gardening is to grow your own fruits and veggies so you can actually save money on your grocery bill.
Do's and Do Nots
Do not buy plants from the garden center of your local hardware store (or nursery). Buy seeds instead. One seed packet will generally cost just a couple of bucks and contain enough seeds to grow anywhere from 20-50 seedlings. Compare this to the cost of one nursery grown plant which will generally run you anywhere from $2-5 dollars a plant. Your money will go a long way with seeds.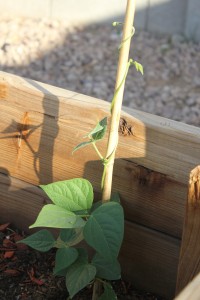 Plan ahead. Pick up a good gardening book at least a month before your growing season and get an idea of planting best-practices: when to plant, where to plant, how to plant (if you live in the desert like I do you might try "Extreme Gardening" by Dave Owens).
Make your own compost. Using compost is important in a healthy organic garden. You can buy compost from your local nursery but it won't be cheap. So grow your own compost instead. As an added benefit you'll cut down on garbage in your can (and in the landfills).
Build a drip system or some other type of watering system for your garden. Harvest rainwater and use it to water your garden if possible. Use some type of mulch to keep the ground from drying out too quickly.
Raised gardens are great, but aren't always the best option. If you have high-quality soil in your yard you don't necessarily need a raised garden (these are often used where soil quality isn't the best). If you do prefer a raised garden bed then think outside of the box when building it to save money. Building out of redwood is nice, but there are much cheaper materials. Try old bricks, stacked tires, crates, etc. These materials could likely all be found for free, if you look closely enough.
For those who are interested in growing your own food, I hope this gives you the little extra nudge you need to get started. For those who aren't sure gardening is for you, give it a try! I bet you'll really enjoy it.
Blog Action Day
This was my post for Blog Action Day 2011. The topic this year is food. For more information on blog action day and what they're all about I'd recommend following the link in the Blog Action Day banner. Make it a great day!