I love spreadsheets.
I'll be the first to admit that I'm a total spreadsheet nerd. My wife and I have been talking lately about buying a house sometime next year and that's led me to do some number crunching in Excel, trying to figure out how much money we should put down on a house.
After some extensive crunching and comparing I've come across some interesting results, which to be perfectly honest with you I didn't necessarily believe at first. Before I tell you what I learned though, I'd like to get your opinion on the matter.
[poll id="6″]
Make sure you vote before continuing the rest of this post.
What did you say? My first thought was that the larger the down payment the more money you're going to save in the long run. So was I right?
Nope.
What I found is that a larger down payment is essentially a waste of cash. There's not much point to paying more down on a home, even if you have the available cash. In fact if you really want to save money I discovered that you're better off taking your cash and applying extra to your monthly payments. Doing this will actually save you more money than if you had just put all of your cash down on the house.
Another obvious advantage to keeping more cash on hand is that your cash can earn interest while it's hanging out month after month slowly whittling away as you take a small amount every month and apply it as an extra principal payment on your mortgage.
Check out what I calculated in Excel, based on a $150,000 purchase price and a 6.5% APY on a 30 year mortgage.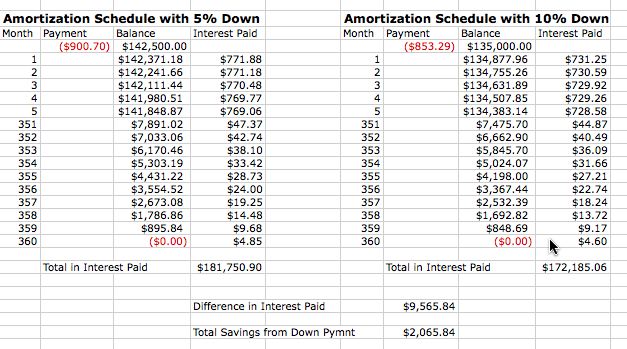 The main number to check out is the total savings from a higher down payment. The magic number is $2,065.84. Now that's not per year, or even per decade. That's a total savings of $2,065.84 over 30 years. That's not much, and is arguably not worth paying an extra $7,500 down when purchasing a home.
Now check this out: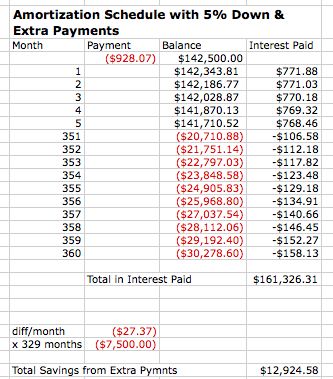 Here's where it gets interesting.
Assuming you had $15,000 that you could put down on a home, but decided to only put down $7,500 and apply the rest of the $7,500 over the entire length of the mortgage you would save almost $13,000 dollars, not to mention that you could easily earn a return of 2-4% if you were to stash that $7,500 in a money market or other liquid savings accounts.
By doing this you'd also cut down the length of the loan from 360 months to about 329 months – a difference of 2.58 years.
Interesting isn't it? The idea then is to pay down as little as possible, while saving up as much as possible. That way you can run some numbers and amortize your extra cash over the life of the loan. You'll save yourself thousands of dollars, pay your loan off early and even let your extra cash work for you in a savings or money market account.
Win, Win, Win.
Update (Dec 11): I made a few clarifications about large down payments on a home and also want to leave a few disclaimers about certain things that I did not take into account. First you'll notice that the monthly payments are not equal on the first picture I showed you. If you were to pay equally with the 10% and the 5% down then you would save a lot more money with the 10% down payment. Second there are no other variables included in the formulas I used, such as a possible lower interest rate or extra costs such as PMI (private mortgage insurance). Personal finance is completely personal and you should definitely do some research on your own with actual mortgage lenders if you are considering purchasing a home. Good luck out there!